VEHICLE, FREIGHT AND PASSENGER BARGE SERVICE IN THE SAN JUAN ISLANDS
​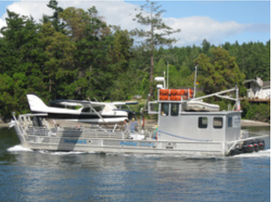 The Humpback is regularly used to help both long-time and new residents of the islands. We provide vehicle freight and passenger service to both ferry and non-ferried Islands such as Orcas Island, Johns Island, Stuart Island, Waldron Island, Crane Island, Yellow Island, Pearl Island, Henry Island, Shaw Island, Jones Island, Lopez Island, and others.
​
We can accommodate passenger transport, with capacity for up to 42 passengers, making the Humpback landing craft a great option for large groups such as wedding parties or ferrying camp students to and from
Camp Nor'Wester
on Johns Island. The Humpback is available, and has been chartered for exclusive use by marine research groups. We also have a small landing craft/work boat the M/V Narwhal available for passenger transport and small cargo service.
​
​
View our
Services and Capabilities
page for everything the Humpback has to offer. If you don't see what you're looking for, just ask. We can provide assistance in obtaining and delivering essential island needs such as water storage tanks, generator power equipment, appliances, construction materials and help in managing your freight delivery logistics. Our shallow draft allows us to access most beaches and boat ramps down to a 1.0 foot low tide. We make it possible for you to more easily undertake your new construction or remodeling projects and move into or out of island properties.The added benefit of our hydraulic crane makes loading and unloading cargo fast and easy.
​We also are able to provide vessel assistance and emergency response.
​ M/V Humpback is fully outfitted with dual radar systems, AIS, VHF, GPS electronics. Adult, children and infant life vests, a life ring and life rafts are aboard our vessel for your safety. Humpback also has a Marine Head, and small comfortable fully equipped heated Galley with seating space for up to 8.
Due to ever changing Tidal conditions
RESERVATIONS ARE ONLY BOOKED BY TELEPHONE !​
To Schedule a Barge Run, please call 360.317.7433
---
---

Email:
Humpback@humpbackhauling.com
or call 360.317.7433
Humpback Hauling LLC d/b/a Humpback Hauling, P.O. Box 2239, Friday Harbor, WA 98250-2239
[Vessel based in Roche Harbor, WA]